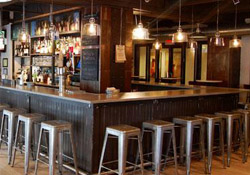 Source: http://philly.thedrinknation.com
Last Weekend we wanted to go out some where we haven't been. I didn't feel like changing into something nice so what came first on our list was
Cooperage
. My parents wanted to take us there back in the summer but I wasn't feeling it and we decided on some where else. So it left it limbo for another date.
Joe and I went last Saturday night, on a decent cool evening. We were both hungry and very thirsty so once we got there the draft list was first on mind. I had the last of their Ocktober Fest beer and Joe had a IPA. The list was good but not extensive. It was also more of a whiskey bar even though it didn't feel like it. For the appetizer the waitress recommend their fried calamari dish. Main entree I ordered their signature Coop's Burger done medium with sauteed mushrooms and sweet potato fries. Joe had their black bean burger and side salad.
As for the fried calamari dish I was impressed. What made it so good was their house made side dip and the fried rings AND tentacles. (those are my favorite) The scallop style dish it came out on was very appropriate but in the same instance stood out from the entire look of the restaurant. Cooperage even in the name has a dark earthy feel. The bright white plates and overly lit atmosphere stood out like a sore thumb. The iron base tables worked though. Also the dollar store salt n pepper shakers were a bummer.
The Coop's burger came out perfect and the sweet potato fries as of right now are my favorite in the city. Originally I was a fan of Good Dog's but these were perfect and bright orange. Honestly they could be frozen Alexandra's but until I know they are the best!!!
Joe's black bean burger was also great and the light lemon vinaigrette dressing just tossed with the Mediterranean mix was good.
Overall the food and presentation was good. The atmosphere when walking in and a couple decoration points were a little off. I would go back again but more for a lunch date than a evening out.